If you have been on any deep sea fishing Roatan trips, chances are you have caught at least one blackfin tuna. These fish are plentiful in our waters and taste absolutely delicious!
Here is a recipe that we came across recently on the great blog site, Suwannee Rose, and put to use once we got our new grill. With it being mango season and never difficult to find a perfectly ripe avocado in Roatan, the flavors of this dish are perfect and super easy to prepare.
Ingredients
1 pound blackfin tuna steaks (cleaned & filleted by Capt. Artley from your deep sea fishing Roatan trip!)
2 tablespoons grapeseed oil
Image Credit: Suwannee Rose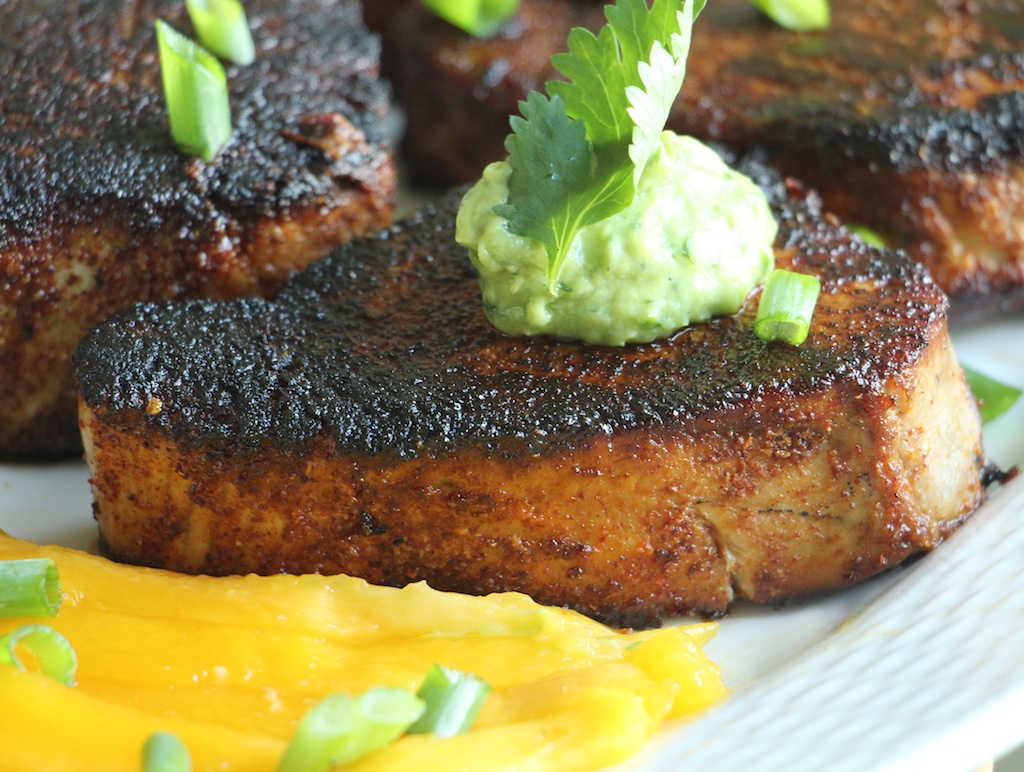 Barbecue Rub
1 tablespoon coconut sugar or brown sugar
2 teaspoons chili powder
1/2 teaspoon salt
1/2 teaspoon garlic powder
1/4 teaspoon onion powder
1/4 teaspoon cumin
1/4 teaspoon coriander
pinch of cayenne
Avocado Sauce
1 avocado
1 big handful cilantro
1 green onion, chopped
1 jalapeno, chopped (optional)
juice of 1 lime
1/4 teaspoon coarse kosher salt
Serve with
1 mango, thinly sliced
cilantro
sliced green onions
Instructions
Combine all ingredients for the Barbecue Rub in a shallow dish.
Blend the Avocado Sauce
Add the avocado, cilantro, green onion, jalapeño, lime, and salt to the jar of a blender. Blend 30 seconds at a time, scraping down the sides with a spatula. Continue this until it's very smooth. Transfer to a serving dish.
Sear the Tuna
Heat the oil in a cast-iron skillet over medium-high heat.
Dip the steaks in the barbecue rub, coating all surfaces.
Sear the tuna 2-4 minutes on each side for medium-rare, depending on the thickness of the steaks.
Transfer to a serving platter.
Serve each steak with a dollop of avocado sauce, sliced mango, cilantro, and green onions.
Once you have tasted this, you are going to want to book more deep sea fishing Roatan trips so that you can make the recipe again for friends! There's plenty of tuna waiting, so give us a call!